Traditional Handicraft in Y Linh Ho village San Sa Ho communes, Sa Pa
In 2001, the UNESCO Office in Vietnam and Craft Link initiated a handicraft project for Hmong women in Y Linh Ho, one of the three villages of San Sa Ho commune. The Hmong of Y Linh Ho terrace land for farming in the steep mountainous terrain of Northern Viet Nam. Here, where the climate is often harsh, people grow only one crop of rice and corn each year. They earn some cash income by collecting cardamom from the forest that is used for traditional medicine. However, principally it is subsistence living, requiring each member of the family to work hard in the fields, collect firewood, and take care of pigs and chickens. Despite the fact that Y Linh Ho has a school with classes up to grade 4, most adults are illiterate. For medical treatment people can go to a health post in the local commune.
Occasions for making and wearing traditional clothes in Y Linh Ho
For her marriage, a young Hmong girl will make at least two sets of new clothes, one to wear and one to store. In order to make these clothes, her mother will weave hemp cloth or the girl will purchase it from elderly women in the village. Making hemp is a long and laborious process, so it is undertaken only in free time and by these elderly women.
For celebrating Tet (the New Year Festival), all members of the household must have a new set of clothes. For women, traditional clothing consists of a hemp outer garment (shao cho) with a colorful and decorative collar. A long sleeved cotton garment (shao ti) is worn underneath in combination with short trousers.
Men also wear a shao cho with a short shao ti and long trousers. The cloth for making these clothes must be dyed with indigo, which, like hemp, is grown by each household.
Gau Tao is a local festival proceeding Tet in which people play games, sing and dance. For this festival young girls may wear a batiked skirt. Today in Y Linh Ho, this skirt is often purchased from Hmong traders from distant villages. Girls will save this skirt for their funeral, since all Hmong women at death wear a skirt in order to join their ancestors in the next world. Village's shamans in Y Linh Ho assist in the death ceremonies.
Batik patterns and techniques in Y Linh Ho
At death, men and women of Y Linh Ho are dressed in a special shirt with batiked sleeves called a shao co. Some people in the village wear the shao co everyday. Only a few elderly women know how to make this shirt or traditional baby carriers that are decorated with batik and appliqued.
Women use special bamboo and copper batik drawing tools (dan dang lo) that they dip in hot beeswax before drawing numerous motifs on cotton cloth. Motifs include the pig's foot, pig's trough, chicken's foot, bird's eye, khau li (hemp-winding device), and the pumpkin flower. Unfortunately, no one in Y Linh Ho knows how to make batik tools anymore; therefore they are either shared among household members or purchased from a distant village.
Revival and Innovation of Embroidery and Batik in Y Linh Ho village
With the financial support of UNESCO's Division of Women, Youth and Special Strategies, and the technical assistance of Craft Link, Hmong women of Y Linh Ho village are reviving the traditional skills of batik and embroidery in order to make handicraft products for income.
One of the skills learned by all youung girls is the art of making the elaborate collar that is attached to the shao cho. This collar has a rich surface texture created by layers of applique and silk and cotton embroidery. In the past, collars were finer and had a range of different patterns. With the assistance of UNESCO, Craft Link is encouraging the revival of the fine art of making collars and introducing a variety of new materials and colors. Women of all ages from Y Linh Ho are learning to reproduce beautiful pieces that they can either sell as small works of art or use to make products such as bags and cushion covers.
Professional training has been provided by Craft Link the following areas: fixing indigo dye; machine sewing; finishing techniques using hand sewing; bookkeeping and marketing skills for a project management team; and literacy training. The aim of this project is to help Hmong women of Y Linh Ho generate income for themselves based on their tradition craft and create economic opportunity for the economy.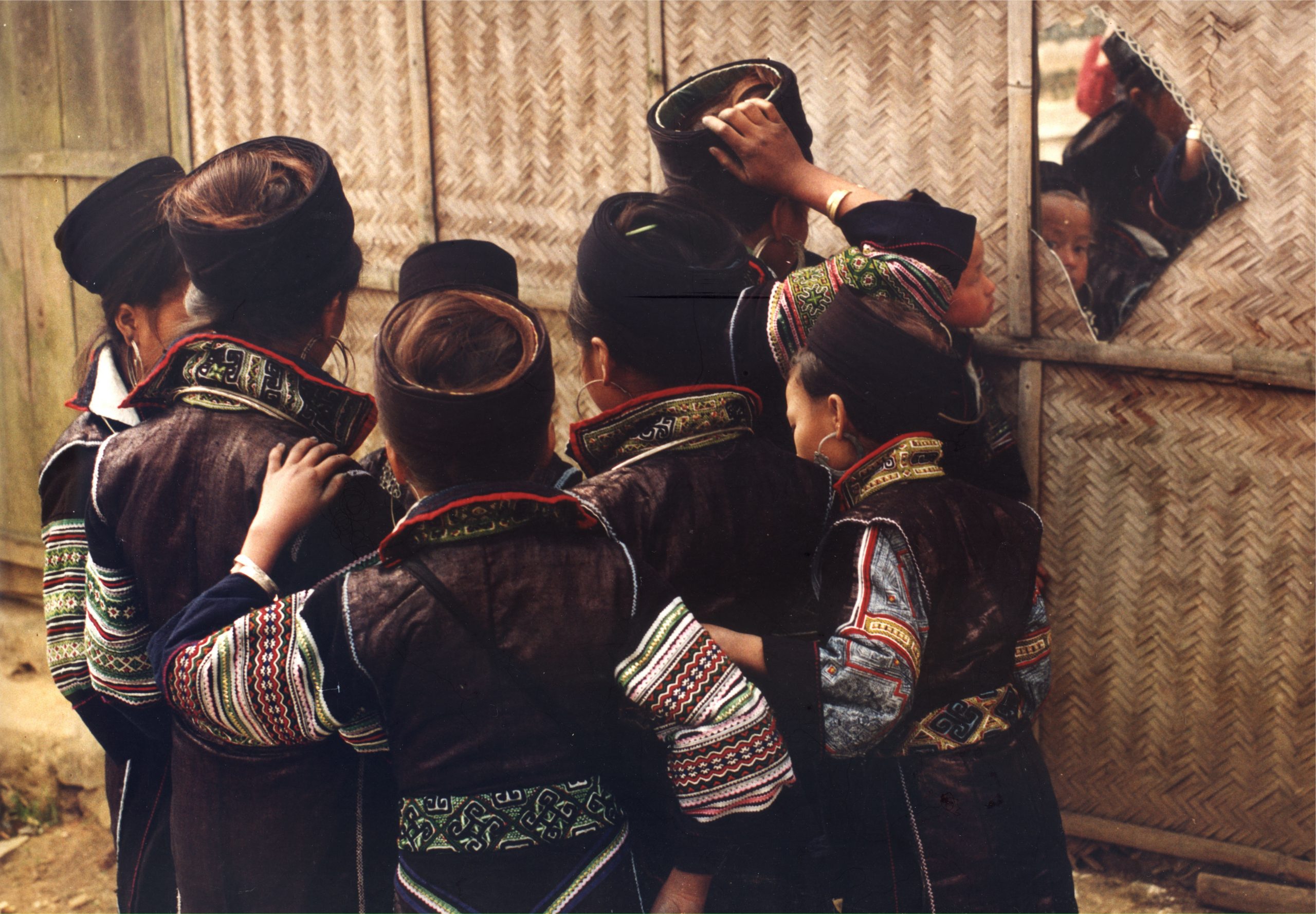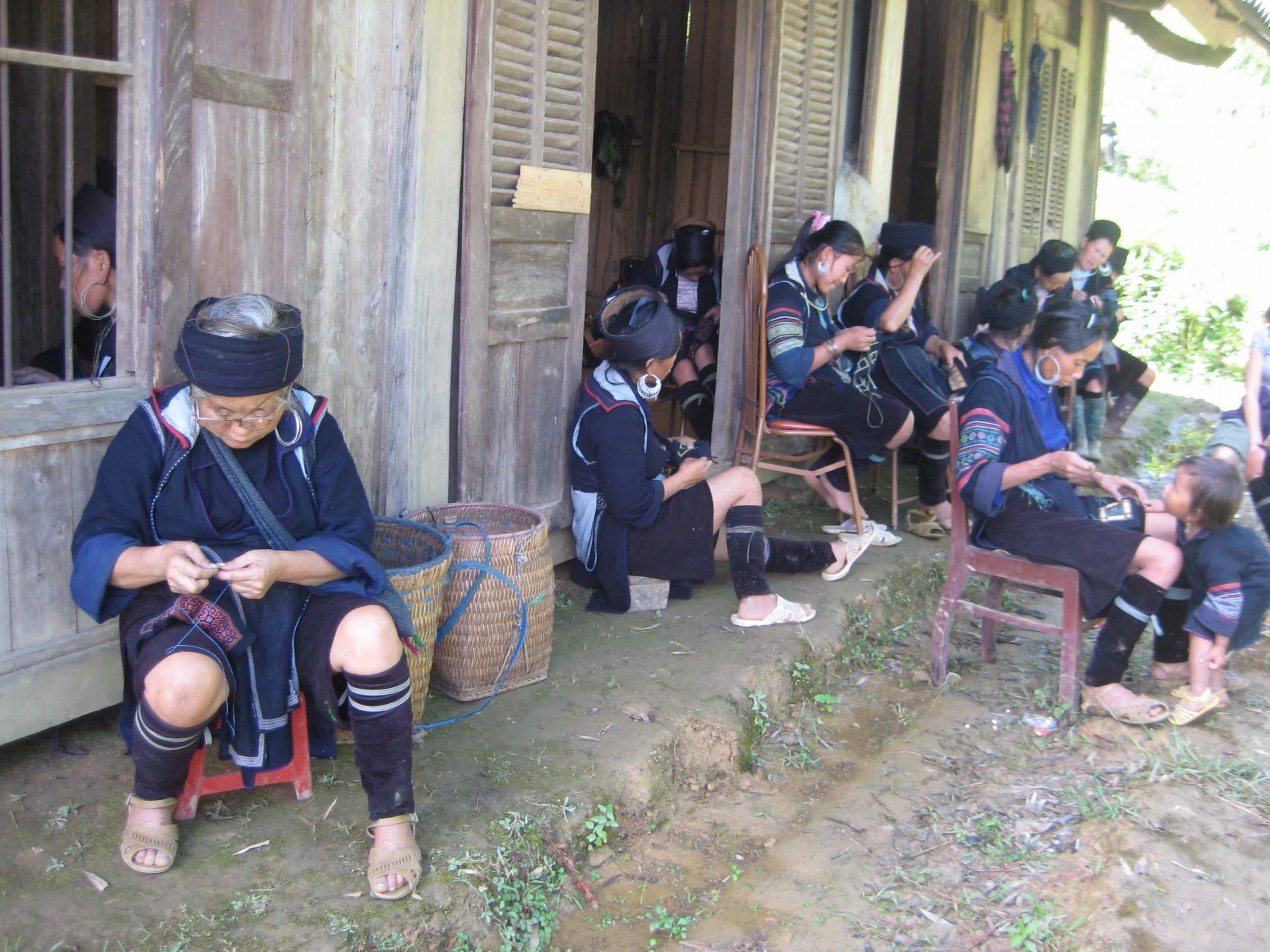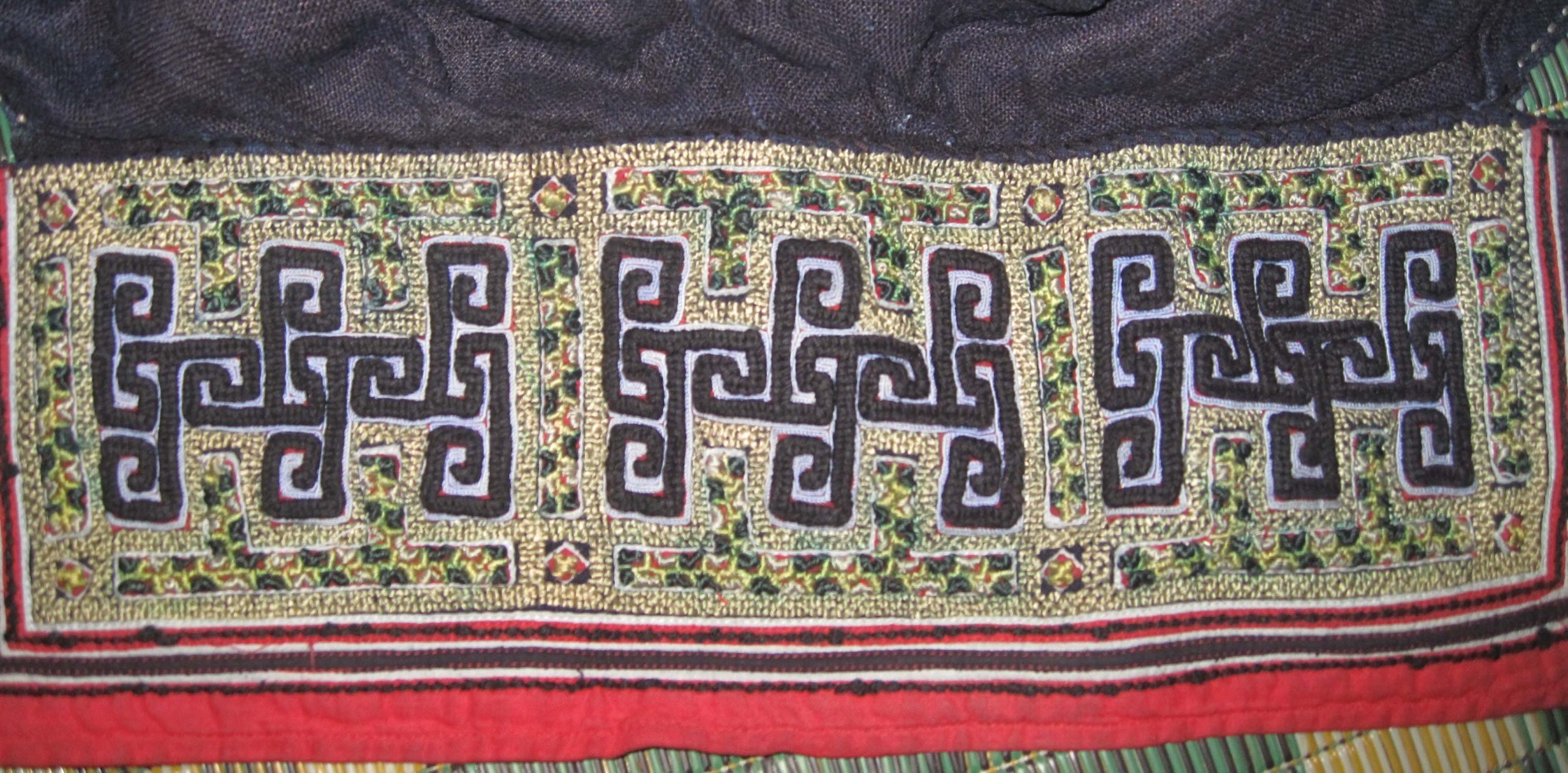 For more information about this project, please contact :
Craft Link
43 Van Mieu
Hanoi, Vietnam
Phone: (84-4) 7336101
Fax: (84-4) 8437926
Email: craftlink@hn.vnn.vn
Website: www.craftlink-vietnam.com