Ky Son is a mountainous district in the central Vietnam province of Nghe An, bordering Laos. The ethnic minority population includes H'mong, Thai and Khomu people. In the past, people of this district were involved in cultivating opium for sale. The United Nations Drug Control Programme (UNDCP) aims to help local people find alternative sustainable livelihoods in Ky Son. UNDCP and Craft Link are collaborating together to help H'mong women earn income through production of handicrafts.
The H'mong of Pha Xac Village, Huoi Tu Commune
There are 125 families of White H'mong in Pha Xac village. Family stories tell of ancestors descending from China and clans migrating from Laos to Vietnam some 150 years ago. Sitting high in the mountains, Pha Xac is a place of changing economy with households seeking new ways to earn income other than from growing opium. Primarily subsistence farmers, the H'mong in Pha Xac grow rice, corn and vegetables and raise livestock. Handicraft development and new markets are opening up new opportunities for income generation.
Traditional Clothing and Customs
H'mong women of Pha Xac wear traditional clothing for the New Year festival, marriages, funerals, markets days and other special occasions. Their traditional dress includes wide black trousers (hu tin) and a black tunic (lu slo) with an elaborately embroidered and applique collar. A girl is considered most attractive when she wraps an embroidered belt and several bright pink and green sashes around her hips. A large silver necklace (lu nhia) can provide additional adornment. Decorative embroidered purses, said to be opium purses and a turban (phu chong slua) are also worn on special occasions. The turban comprises more than ten meter of purple silk held in place by a striped ribbon (chang).
Traditionally, a bride's dowry is large. A bride brings to the groom's household 10 sets of clothes and the groom's family gives her clothes and an expensive necklace. The dowry must also include a white skirt, which she will be buried in for the ancestors to recognize her. A legend explains that when the H'mong came from China, women wearing skirts escaped death from the Chinese and so a deceased woman wears a white skirt in order to remember her way back to the ancestors.
Households still make paper from bamboo to perform rituals for the death and to decorate the altar. According to custom, the H'mong must not be buried with materials that cannot degrade such as plastic or iron. The coffin must be made with simple bamboo nails. Nothing should hold back the death from joining their ancestors.
Distinctive Features of Clothing
Collar (pan tau)
The collar distinguishes one H'mong group from another and demonstrates a woman's skills with her hands. Using a small pair of scissors, a woman cuts an intricate design from a thin piece of cloth, then with tiny even stitches, applies the cut cloth to a second layer of material. She then adds embroidery. Appliques and embroidery patterns vary, with motifs drawn from everyday life. Motifs may represent a peach blossom, snail, bird, chicken's footprint, yoke, and mortar for pounding rice, cross or a single plank bridge.
Belt (quo xe xia)
Traditionally, the belt is comprised of patterns such as alternating squares of pink and green silk with reverse white applique and/or embroidery. Circular patterns which are cut, appliqued or embroidered are called cu, to represent a snail.
The belt is attached to a long rectangular black apron. Sometimes old French Indochinese coins are attached to the belts which swing when a girl dances.
Today, the collars and other decorative feature of Hmong dress are made with white, florescent pink and green synthetic cloth, which is supplied by traders from Laos. Young girls make embroidered and appliqued pieces with this cloth to sell on market days. The pieces are later assembled into belts and collars to be sold to the H'mong community in the USA.
Baby Caps (lu co mo or co mom bi)
Mothers take great care to embroider and applique decorative flaps for baby caps. A piece of cardamom is sewn into the cap to protect the baby's health. Coins and beads often decorate the caps.
Challenges and New Opportunities
The supply of ready-made cloth and clothing in the markets has changed the traditional H'mong dress in Pha Xac and led to the decline of its everyday use. The handicraft project has taken traditional H'mong designs in order to create new product with appeal to new markets. This is helping to retain traditional skills, even among the younger generations as well as to generate income.
Craft link is assisting H'mong women in Ky Son to make new products, which utilize their fine handicraft skills. New products incorporate traditional White H'mong collar and belt patterns.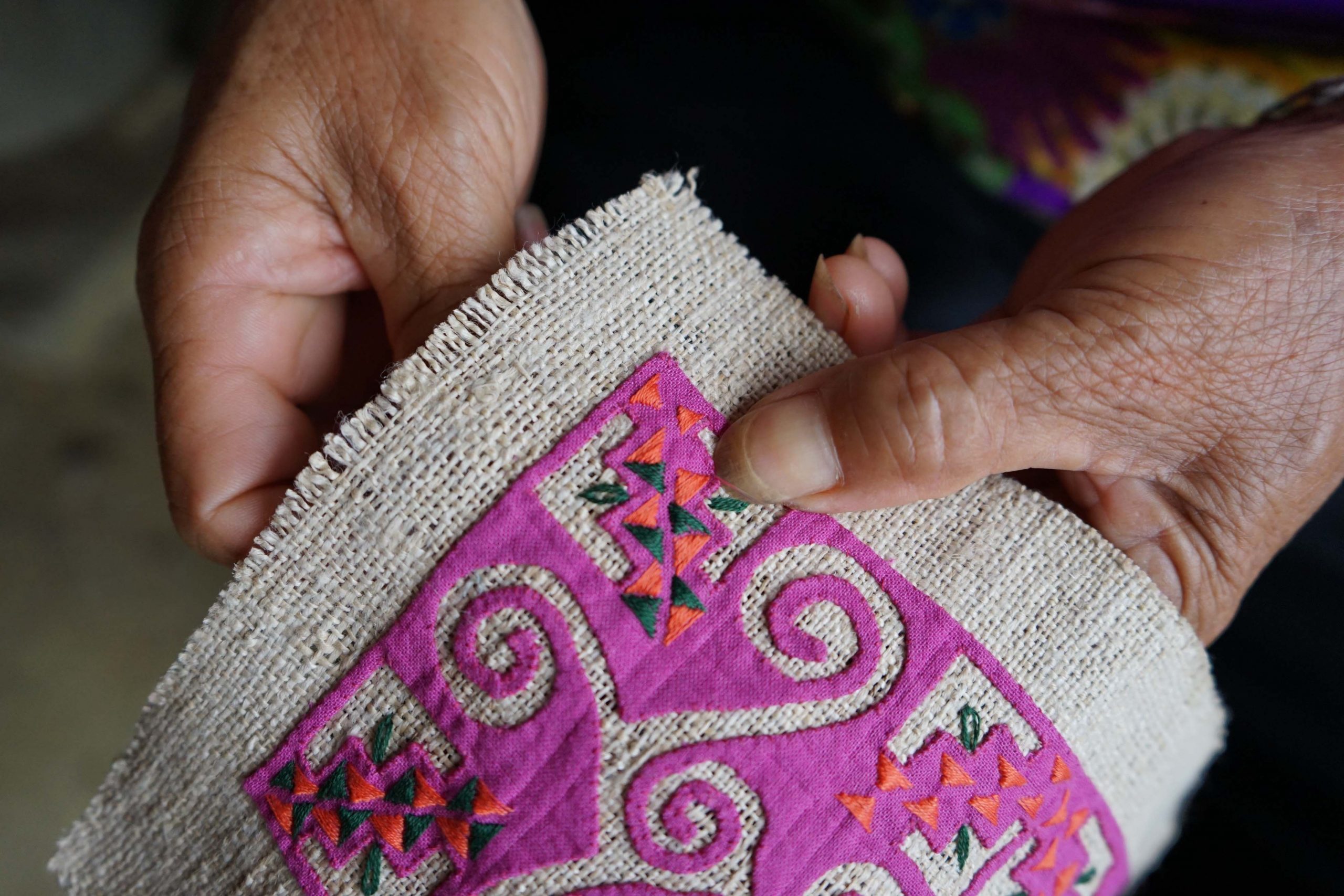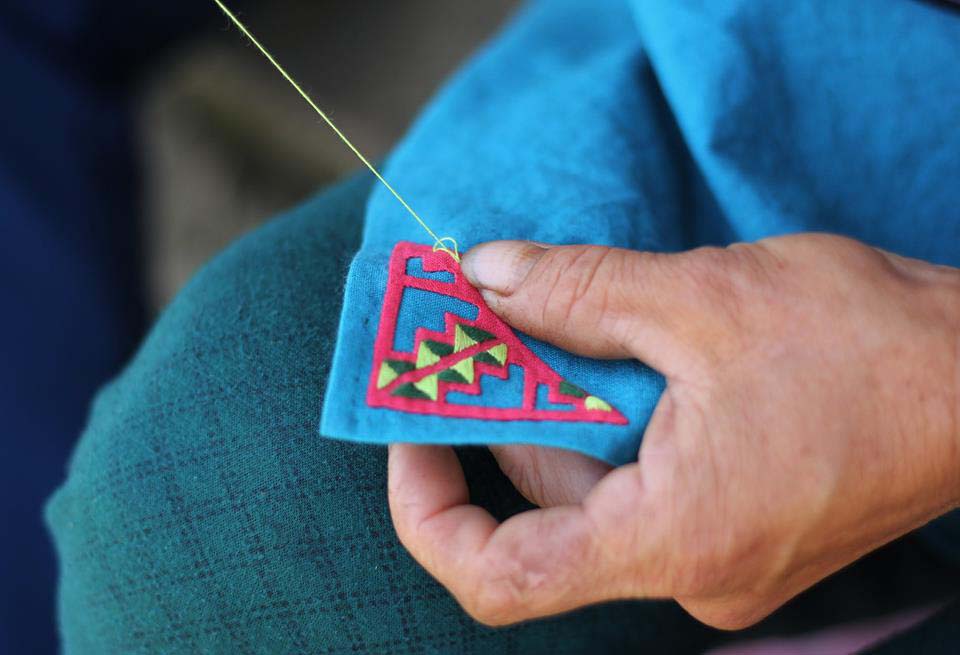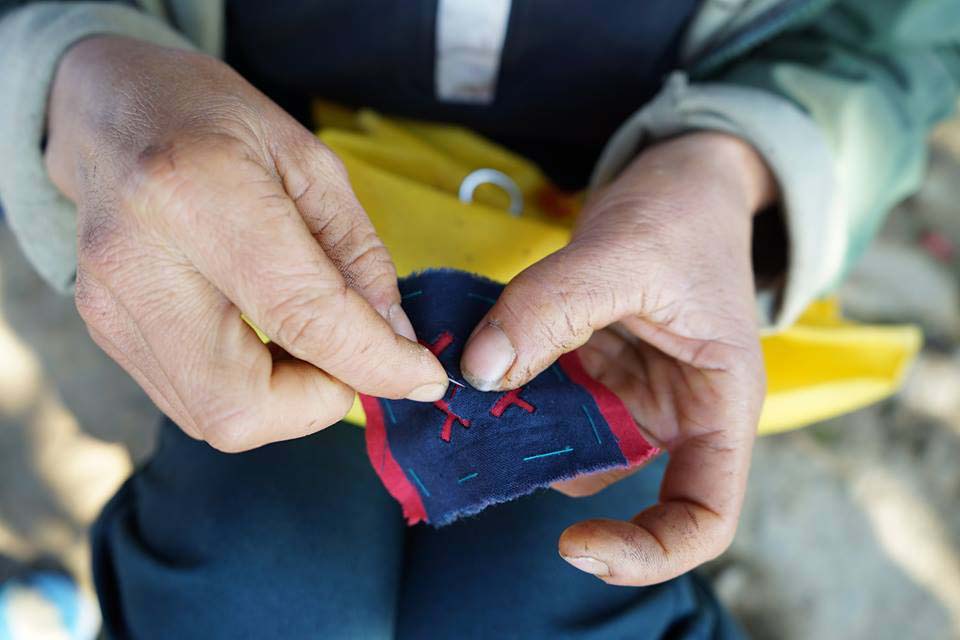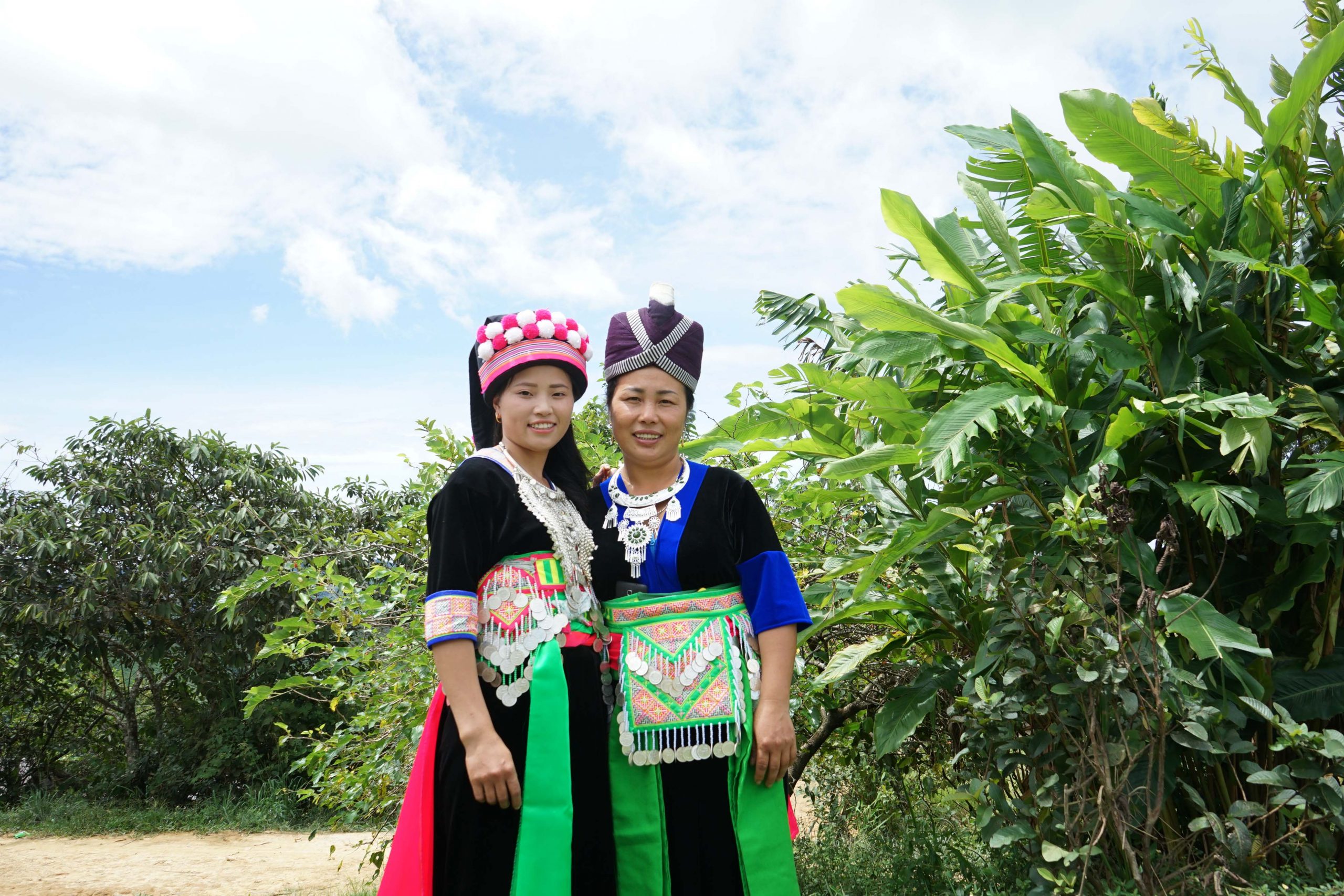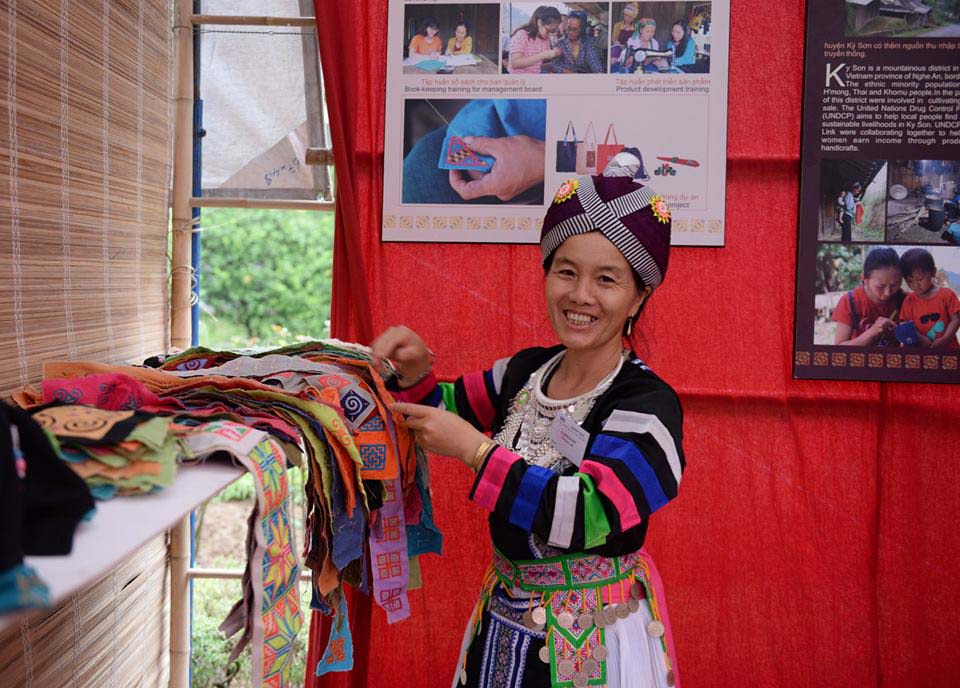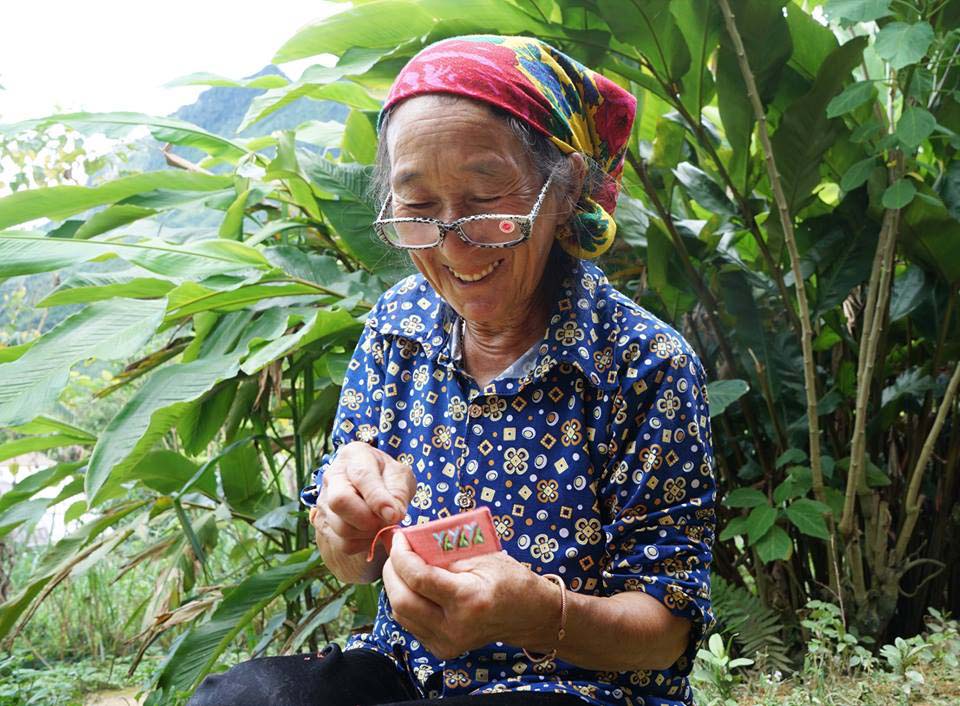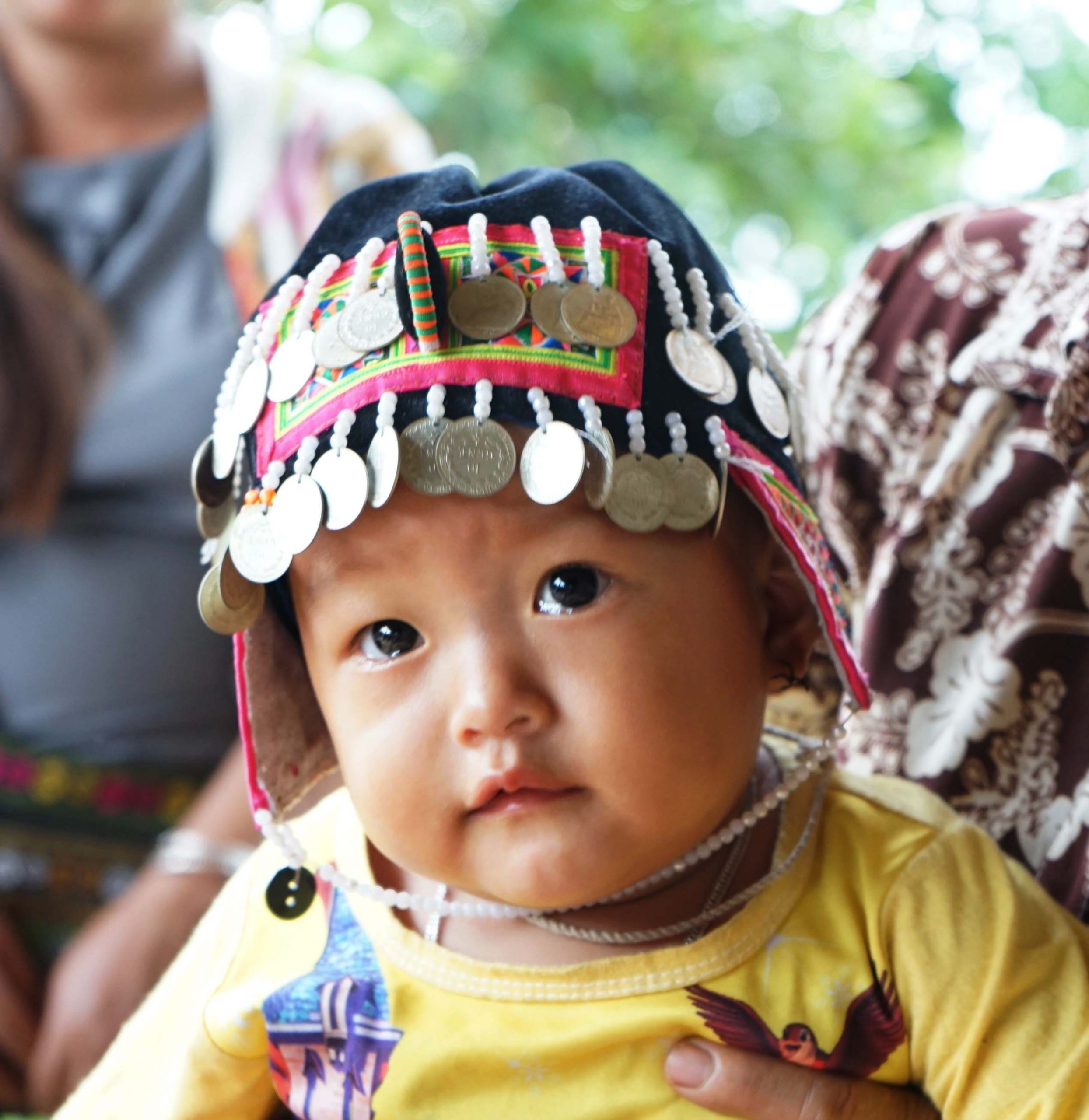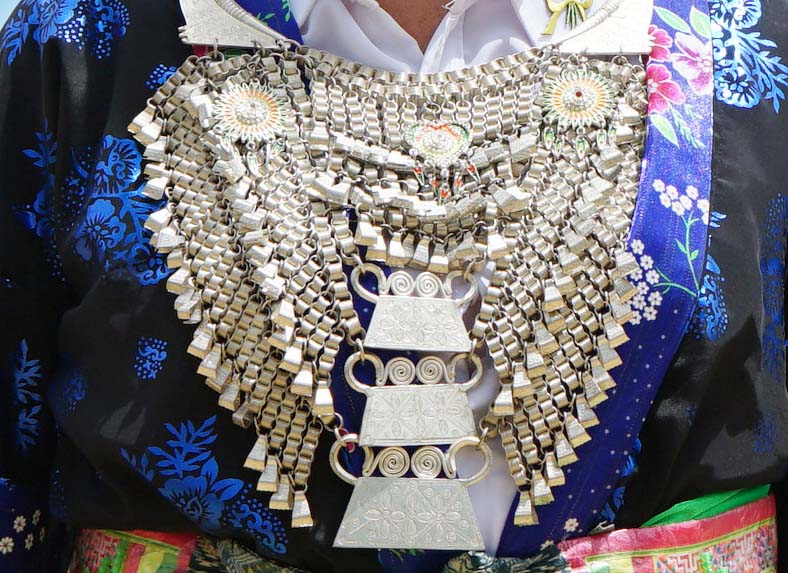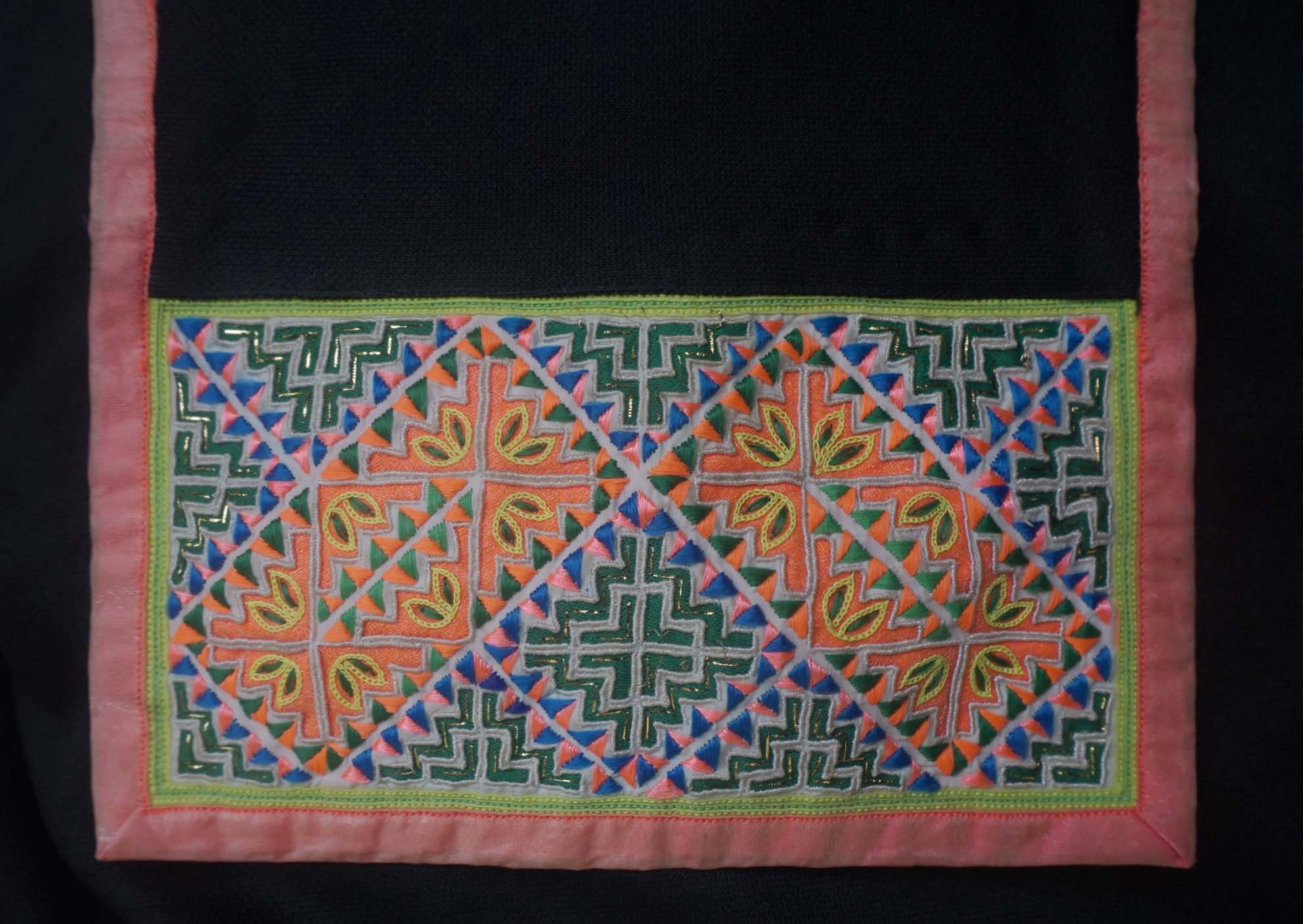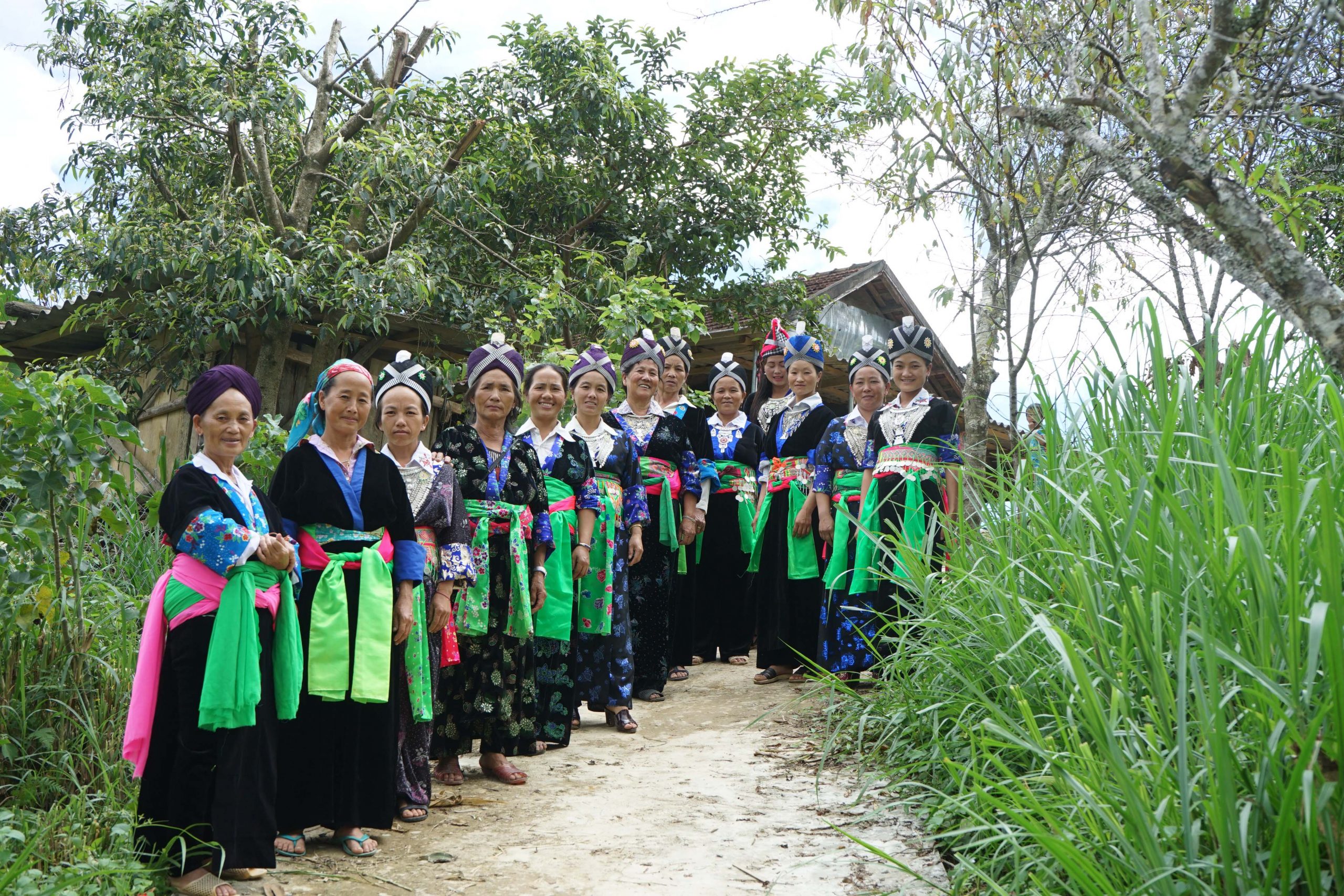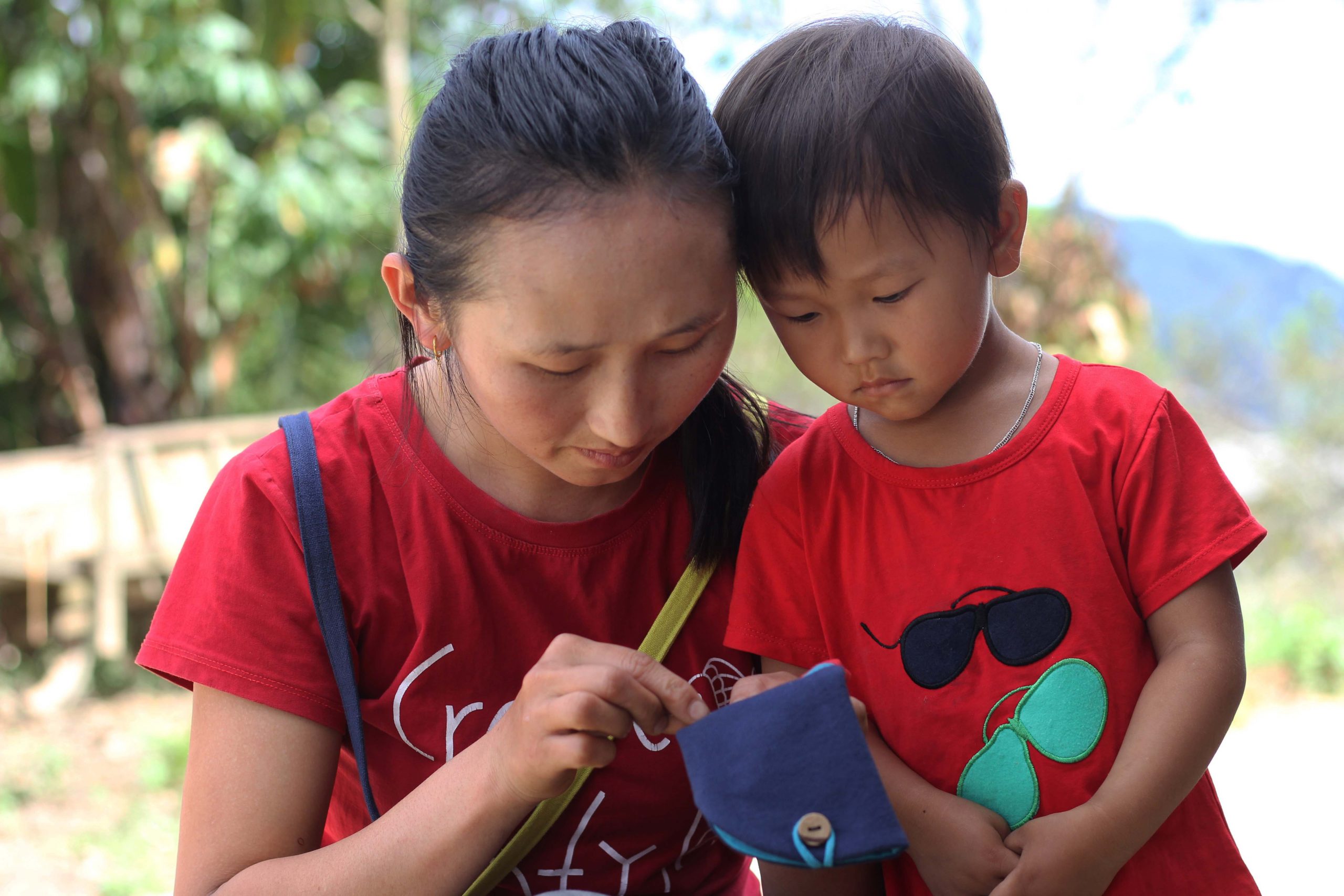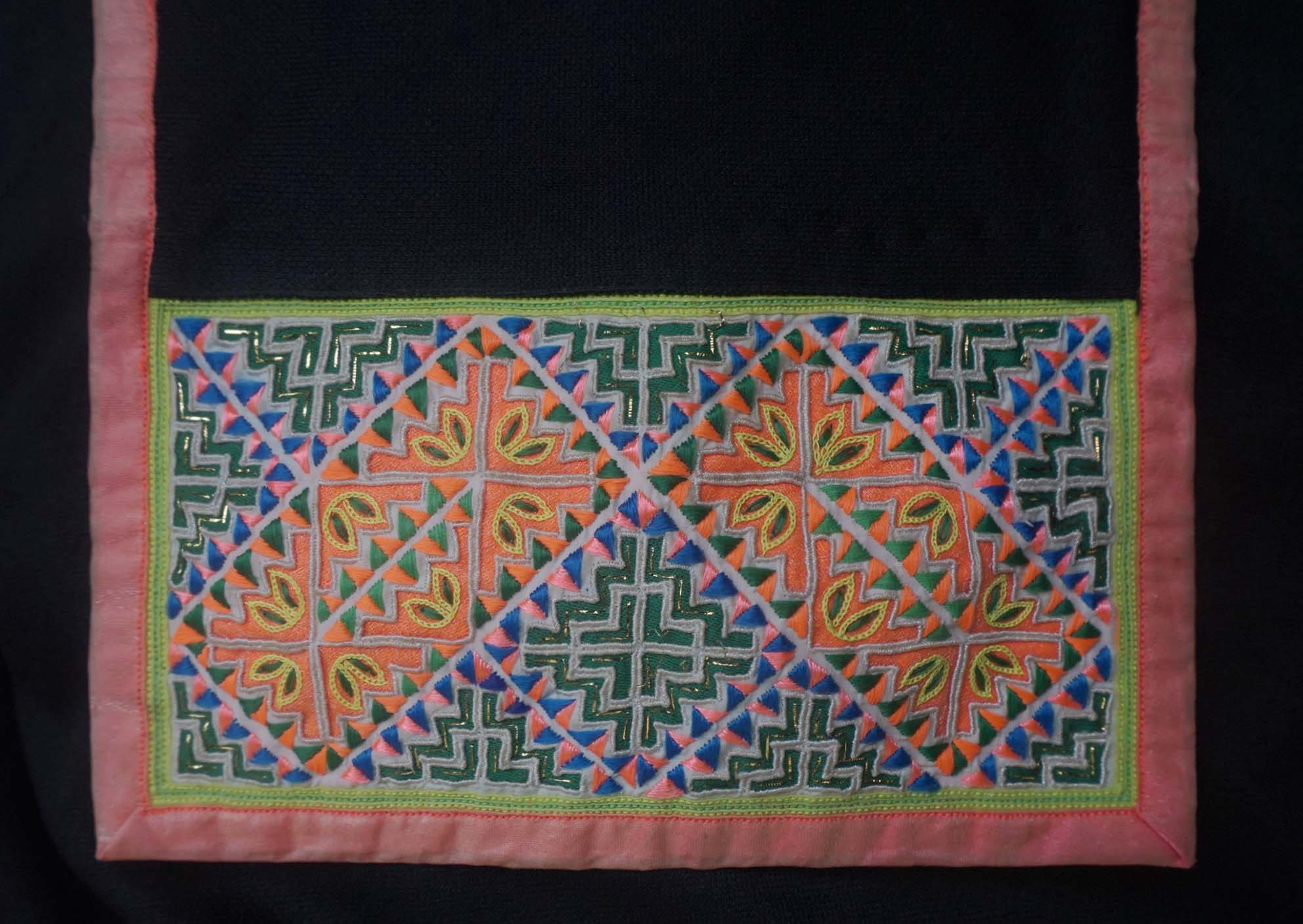 For more information about this project, please contact:
CRAFT  LINK
Ad: 51 Van Mieu Str., Hanoi, Vietnam
Tel: (8424) 3733 6101
Email: craftlink@fpt.vn
Web: www.craftlink.com.vn
FB: facebook.com/craftlink.com.vn
IG: instagram.com/craftlinkvietnam