Ta Phin commune is located in the mountainous district of Sapa, in Lao Cai province which borders China. The commune center is nestled in a valley within walking distance of Sa Pa town, a popular tourist destination. The Dao (Yao) of Ta Phin grow rice and corn on their terraced fields, and collect cardamom and other medicinal plants from the nearby forest. To supplement income, some women sell handicraft to tourist in Sa Pa. They make bags and caps with remnants from their clothing, or sell Dao jewellery which is produced by Giay trader in another village.
Under a project whose partners include Craft Link, the Vietnam Museum of Ethnology, MRDP (Mountain Rural Development Program) and Oxfam Quebec, a group of Dao women are learning to make high-quality products whose designs are based on their own traditional items of clothing. Incorporated into new products are original embroidery patterns for sleeves, trousers, jackets, and other elements of Dao clothing. Following tradition, many of the products utilize indigo-dyed cloth.
The women are receiving training in cutting and measuring, machine and hand-sewing of new products, as well as book-keeping and management of their own handicraft enterprise.
Indigo dye
Dao women purchase cloth in the Sapa market and dye it with indigo. Most households have a plot of indigo for this purpose. First a dye-paste is made from the indigo leaves, and then the cloth is dipped in the dye for about 30days.
The embroidery process
Each section of clothing is embroidered separately, and then the whole garment is assembled with additional pieces of indigo cloth. A set of clothes may take several months to make. Although some women are now using acrylic, usually embroidery is done with silk which is chemically dyed. Although finished garments appear the same, colors and motifs do vary from garment to garment, and new motifs are copied from other Dao groups as well as from the Hmong in Ta Phin.
Symbols in embroidery
Symbols in embroidery are drawn from the natural world which is part of the Dao cosmology. The Dao ascribe to a pantheist system of beliefs, and the spiritual master is invested with the power to keep the elements and spirits in balance.
Symbols and patterns include the: pine tree, peach blossom, paw prints of tigers, monkeys and bear, images of people, horses and birds, and the spirit of thunder.
Dao dress and identity
Embroidery is part of every Dao woman's daily life. She plays an important role in perpetuating Dao identity through her ability to reproduce exactly the patterns which developed over generations. Each article of clothing contains the same sets of patterns as described below:
Women's clothing:
Luy dao, or outer jacket. Unbelted, it reaches to the ankles. The lower back flap (luy dua) is the most intensely decorated part of the clothing. Also decorated are the cuffs of sleeves and the front border. On the upper back is a rectangle of embroidery called luy tan.
La sin, or belt. Worn at the hips, it hikes up the jacket and keeps it closed.
La peng, or trousers. The front bottom sections of trousers are intensely embroidered.
Chap hoong, or bib. Worn under the jacket, it is decorated with silver studs and buttons.
Huong, or headdress. The headdress is an important feature of Dao woman's identity. A girl's parents may give her a headdress when she is about 13, old enough to go to market and begin courtship. It may be decorated with coins and silver bells. A headdress may have 20-25 layers of rectangular red cloth. These are folded, tucked and tied to make a plump, rounded shape. A woman plucks along her hairline to make sure no hair shows beneath the headdress, which is worn not only for beauty but for protection from the cold wind and fog of Sapa.
Men's clothing:
Men wear a short jacket with embroidered cuffs and the luy tan on the back. Men wear embroidered headscarves, some of which are worn specially for the initiation ceremony.
Children's caps: young Dao boys and girls wear separate kinds of embroidered caps. The boys wear caps decorated with silver studs and coins, while the girls wear caps which have embroidery only.
Dao dress in rituals
Marriages are arranged by parents, and a groom's family will give the bride-to-be silk and cloth from which she must make several set of clothes for herself, as well as one set for her husband and individual garments for his family members. She will stay home and not work in the fields in order to prepare. On her wedding day she wears all of her new clothes, demonstrating her skill and good fortune. She will also wear a gong, a wood frame over which is hung red cloth so that she is hardly visible. On top of that she wears the pa dao, a finely embroidered rectangle of cloth.
For a man, the most important day is the light-giving ceremony, an initiation ceremony in which a boy receives several symbolic lights. During the ceremony the spiritual master reads texts written in Chinese characters which have been passed down through generations. The young man will wear long jacket like a woman's , as well as special headscarves and embroidered leggings.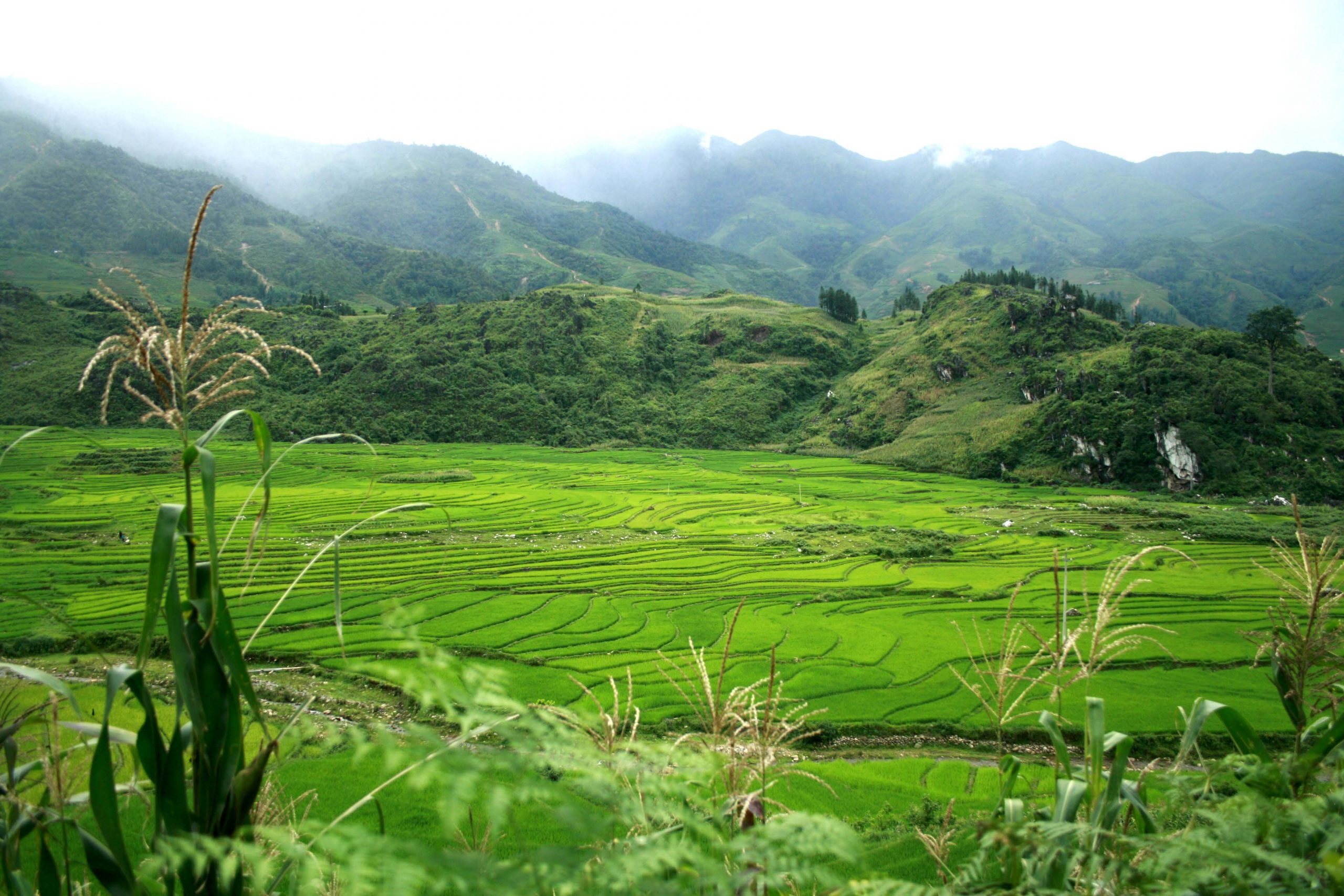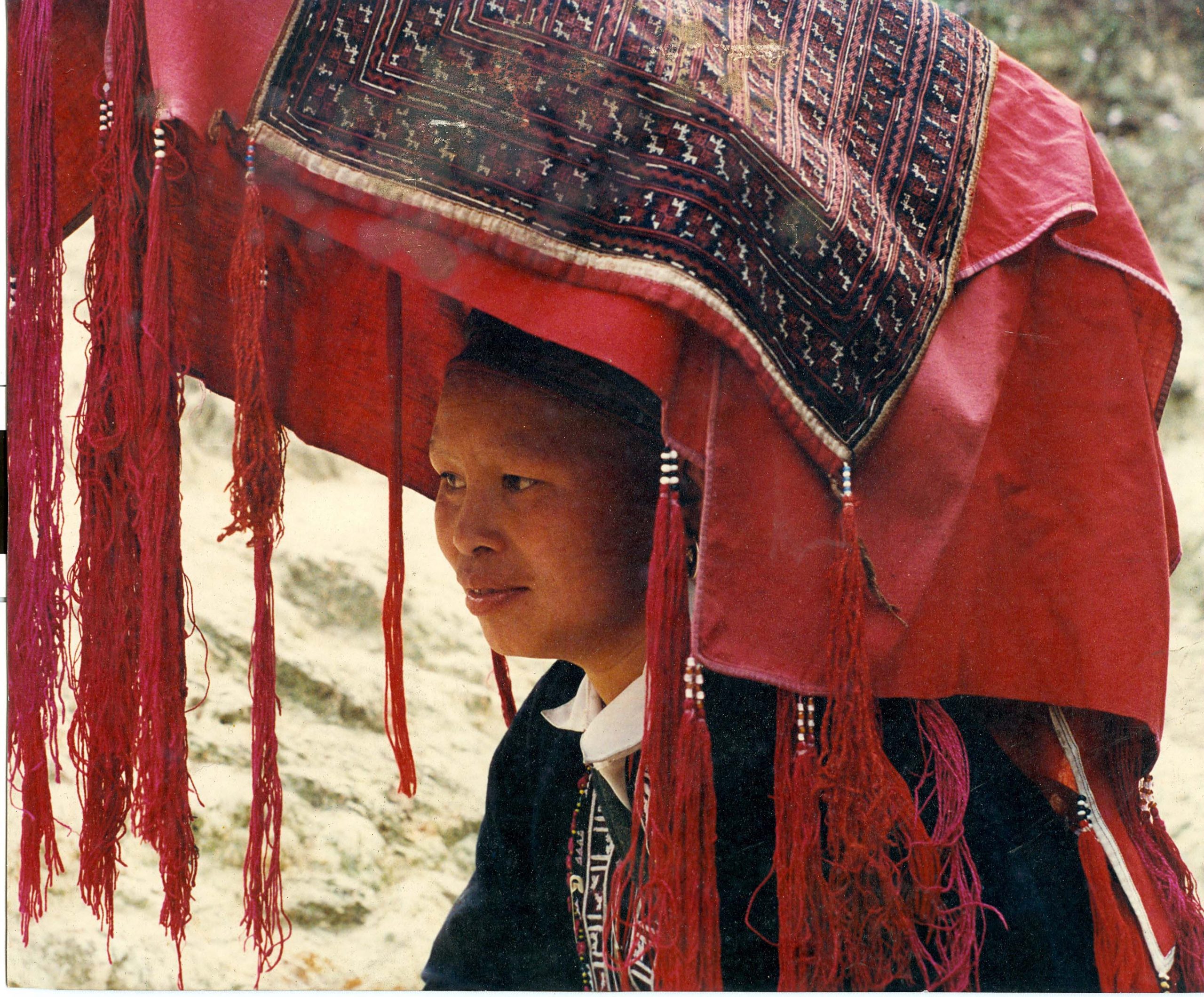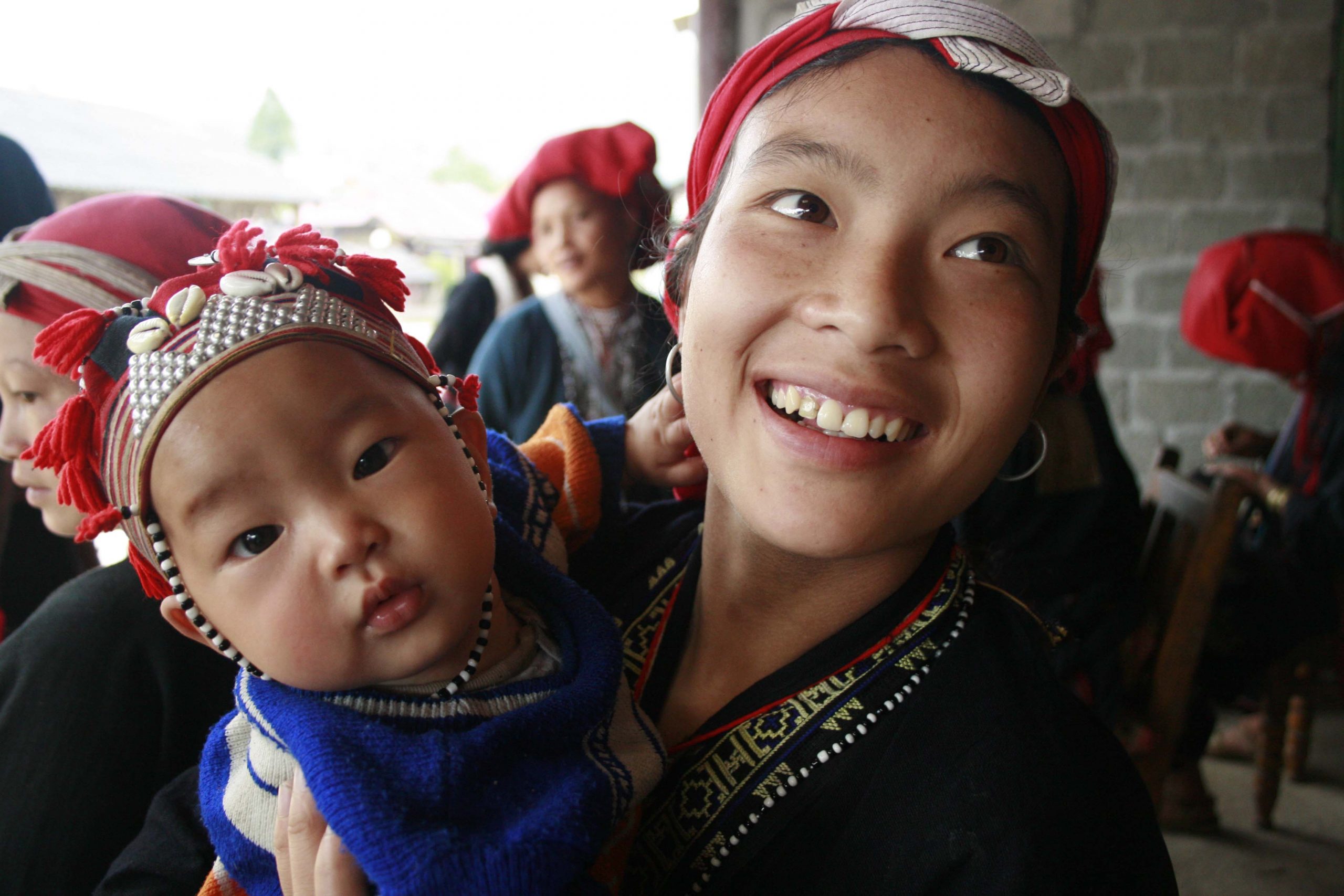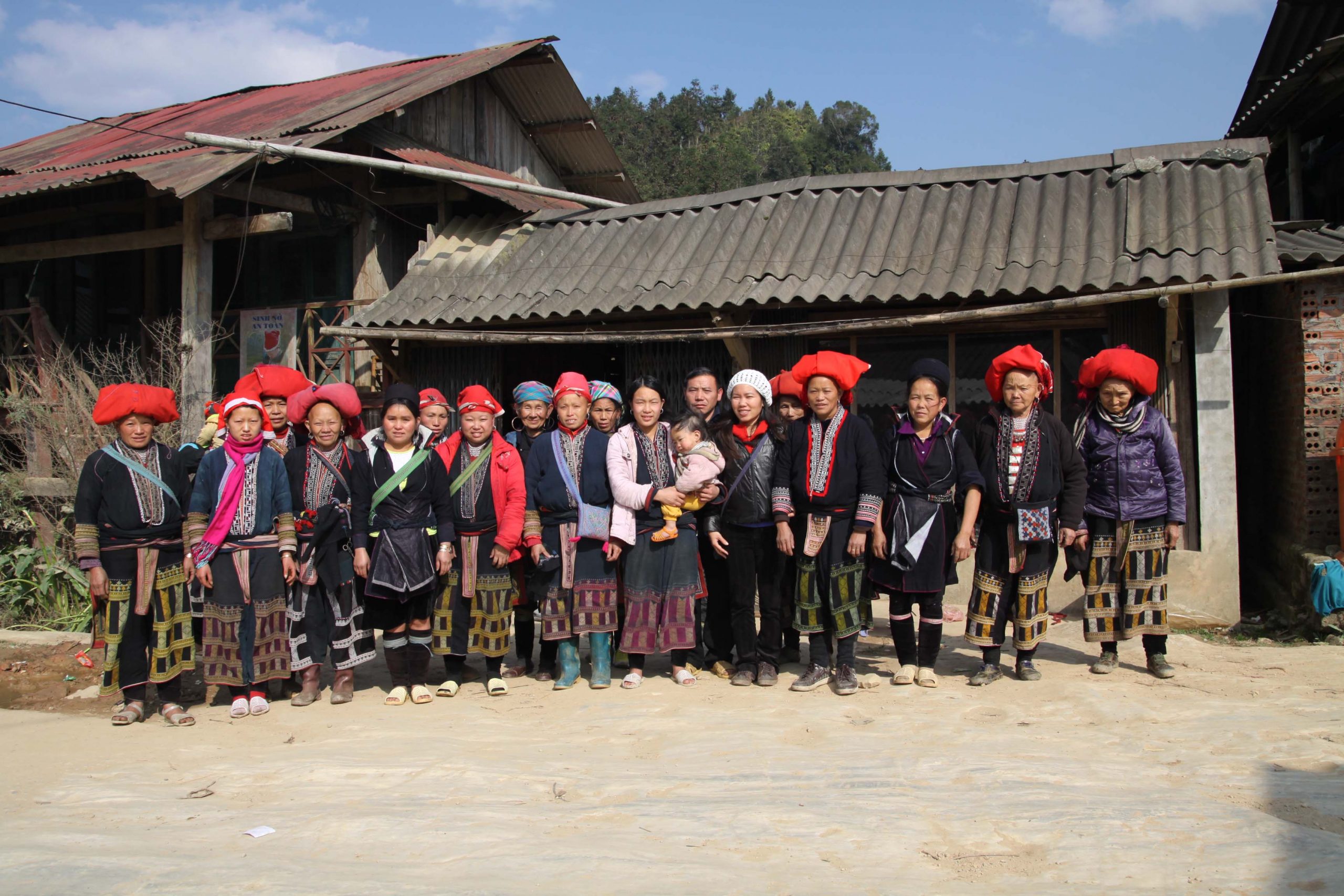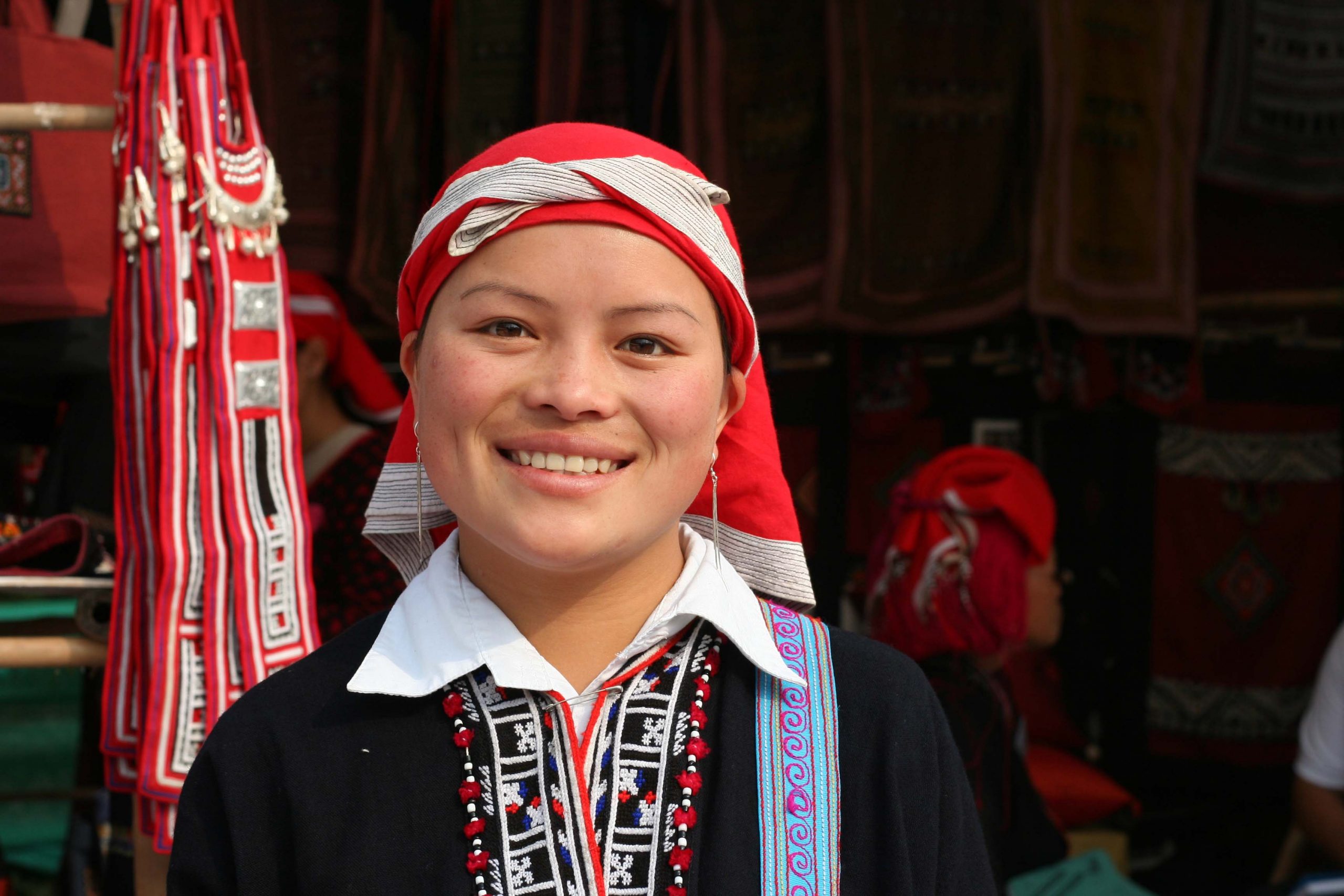 For more information about this project, please contact :
Craft Link
51 Van Mieu
Hanoi, Vietnam
Phone: (84-4) 3733 6101
Fax: (84-4) 3843 7926
Email: craftlink@fpt.vn
Website: www.craftlink-vietnam.com