Giving rice – Fighting Covid
"On behalf of the women in the Thai group in Quy Chau, Nghe An, we would like to express our sincere thanks to CRAFT LINK for giving each of us 20 kgs of rice during this difficult time, fighting against COVID 19 Pandemic. Thank you! "
(Said Ms. Sam Thi Bich from Thai ethnic group, Quy Chau district, Nghe An province)
The COVID 19 pandemic has had a significant impact on the global economy in general and on Vietnam in particular. The pandemic also greatly affected the activities of Craft Link in supporting ethnic minority groups in remote areas. From the beginning of 2020, Craft Link must conduct all project training activities in distance for remote groups. In addition, product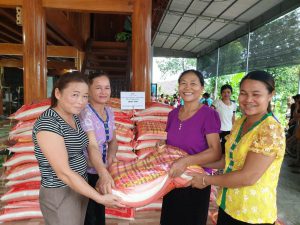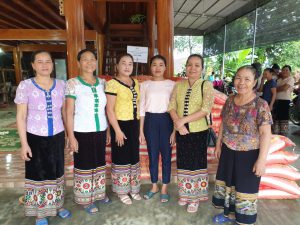 consumption activities are also greatly limited because customers reduce buying demand in the pandemic season. Craft Link is currently making every effort to maintain minimum orders to help groups to secure their income, but not as much as in the same period of previous years.
With the spirit of "Good leaves protect torn leaves", sharing with the groups in this extremely difficult time, Craft Link sent each group member with 20kgs of rice to temporarily respond to the pandemic. This number is not much, but it shows the sincerity of Craft Link for each member of the minority groups.
A total of 20.64 tons of rice has been delivered by CRAFT LINK to each member of ethnic minority groups in remote areas.